Is Donald Trump anything more than, as he once put it, "Tariff Man"?
The US president uses the tool against trading partners to fight battles from "unfair" steel price practices to France's digital tax on tech giants.
Most prominent has been his trade war with China which has raised border taxes on almost $500bn of annual trade.
Mr Trump styles himself as a deal-maker who, as president of the world's largest economy, uses tariffs for leverage in negotiations.
So can the US president legitimately claim he has made any progress? The BBC takes a look around the world.
China
When Mr Trump first announced a trade deal with China, he hailed it as "very large and comprehensive".
It was, he tweeted, "by far, the greatest and biggest deal ever made for our Great Patriot Farmers in the history of our Country".
This week, the two sides finally got around to a signing a deal but some were far from convinced that the substance merited Mr Trump's descriptions.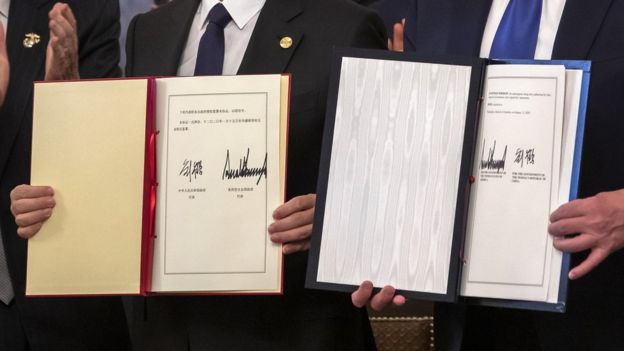 Most of the tariffs remain in place. The US will maintain levies of up to 25% on an estimated $360bn worth of Chinese goods while China is expected to keep tariffs on more than $100bn of US imports.
Even the Trump administration conceded it fell short of original goals, describing it as a "phase one" agreement.
North America
In 2018, the US, Canada and Mexico agreed to a deal that will govern the more than $1.1 trillion in trade between the three countries.
The pact, which has been slowly making its way through the legislatures of the three countries, will replace the 1994 North American Free Trade Agreement (NAFTA) which Mr Trump has described as the "worst".
However, despite a name change, a lot of the terms remain the same.